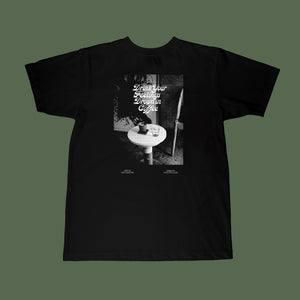 The Curator ~ Café City Club "Drink Your Feelings Drown in Coffee" T-Shirt
"Drink Your Feelings Drown in Coffee" is a collaboration inspired by the growing passion for coffee in Metro Manila. With massive Facebook groups specifically designed for coffee enthusiasts to countless home-based small coffee businesses getting published and established since 2020, it is impossible not to appreciate the energy around our favorite caffeinated drink.
And how else to celebrate that? We worked with our favorite and a very well-respected specialty coffee shop in the city, The Curator. If this is the first time you are hearing about them, they are a semi-hidden oasis in Makati City for specialty coffee lovers as well as craft cocktail aficionados — they were voted the best bar in the Philippines by Asia's 50 Best Bars in 2021, and was number 38 out of the 50 — looking for a flavorful experience or an inspiring stay with a specially crafted drink on hand. 
The design created captures the essence of spending time in The Curator for coffee — calm, gratifying, and inspiring. 
Material: CVC Blend — 60% Cotton, 40% Polyester
Made in the Philippines
Please note that product images are only mock-ups, so there's a chance that actual design will vary in print quality.
Payment Methods Accepted: Credit or Debit Card / Bank Deposit or Transfer / GCash