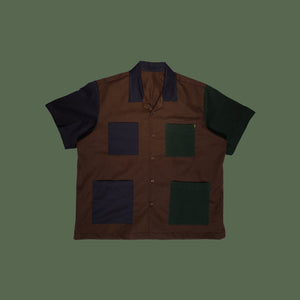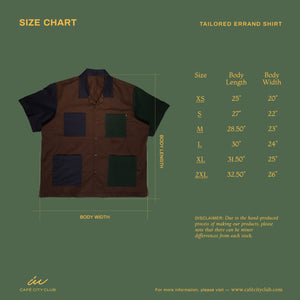 Tailored Errand Shirt
The Tailored Errand Shirt is designed for our limited time outside our homes. An understated upgrade from our go-to t-shirt or casual shirt for errands like grocery runs, work responsibilities, medical appointments, and such.

Equipped with four functional pockets inspired by Chief's Field Jacket that was produced in 2012, the Tailored Errand Shirt can accommodate most small objects we bring daily. For the manner of usage, it is designed to be a light short sleeve overshirt that can be used on top of a t-shirt or as is.
And to go even deeper into expressing the theme, Chapter I: "An Homage to our Past," the several yards of excess fabrics from Chief that we found were used for the overall design. The navy cotton twill coming from the Chief's "Field Jacket," and the hunter green cotton twill from Chief's "Michael baseball shirt," were used for sleeves and pockets that harmonized well with the brown fabric for the body.
Only seven pieces will be produced due to the limited materials. This shirt is made-to-order, we'll produce after we receive your orders — first batch is set to be delivered mid-January 2021. We can produce it in sizes XS-2XL, please see size chart below. Your preferred size will be confirmed after payment.
The Tailored Errand Shirt is carefully manufactured by Proudrace Studios.
Made in the Philippines
Payment Methods Accepted: Credit or Debit Card / Bank Deposit or Transfer