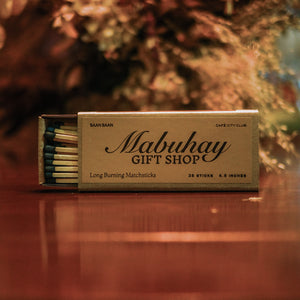 Mabuhay Gift Shop Matchsticks by Saan Saan
"Mabuhay Gift Shop" is a concept we created for MaArte Fair 2022. It is an imaginary hotel gift shop that aims to share our perspective of Metropolitan Manila through contemporary objects — and an exploration of the hotel gift shop concept with an offering that is rooted in a unique point of view of the city where it resides.
"Bring home a piece of Metro Manila."
"Long Burning Matchsticks" by Saan Saan is the perfect partner to your Mabuhay Gift Shop candles.
Long Burning Matchsticks
35 sticks, 4.5 inches 

Payment Methods Accepted: Credit or Debit Card / Bank Deposit or Transfer / GCash