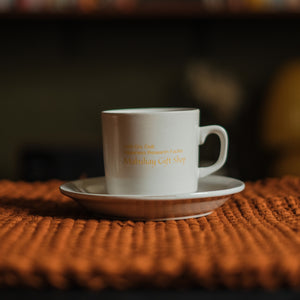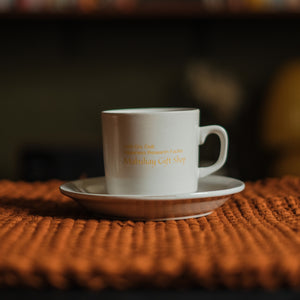 Mabuhay Gift Shop Coffee Cup ~ "Maganda, Mainit, Matapang" by Happiness Research Facility (Yellow)
Inspired by the popular morning combo by Filipinos, "kape at pandesal", we bring you this exclusive cup set. Designed and produced with Happiness Research Facility, the "Magandang Umaga, Mainit na Pandesal, Matapang na Kape" is an intersection of both our ethos — a nod to Filipino and Manila culture, and a celebration of life, even the littlest of moments it offers.
The set, 8 oz ceramic cup with saucer, is sold separately and comes in two different print colors: Brown and Yellow. All cups come with the back print, "Café City Club, Happiness Research Facility, Mabuhay Gift Shop". 
Cup Dimensions: Height — 3 inches / Width — 3.25 inches
Cup Size: 6 — 6.8 oz (180 — 200 ml)
~
"Mabuhay Gift Shop" is a concept we created for MaArte Fair 2022. It is an imaginary hotel gift shop that aims to share our perspective of Metropolitan Manila through contemporary objects — and an exploration of the hotel gift shop concept with an offering that is rooted in a unique point of view of the city where it resides.
"Bring home a piece of Metro Manila."
Payment Methods Accepted: Credit or Debit Card / Bank Deposit or Transfer / GCash