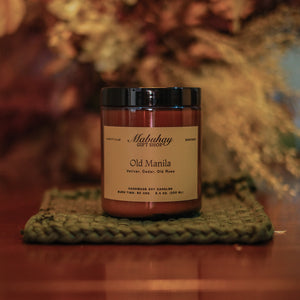 Mabuhay Gift Shop Candle ~ Old Manila by Saan Saan
"Mabuhay Gift Shop" is a concept we created for MaArte Fair 2022. It is an imaginary hotel gift shop that aims to share our perspective of Metropolitan Manila through contemporary objects — and an exploration of the hotel gift shop concept with an offering that is rooted in a unique point of view of the city where it resides.
"Bring home a piece of Metro Manila."
"Old Manila" by Saan Saan is inspired by the opening chapter of Noli me Tangere by Jose Rizal. "It's an interpretation of Kapitan Tiyago's gradiose house on Calle Anloague in Binondo and, with intrigue, explores how it might have felt to live (and love) inside and around the walls of old colonial Manila town."
Handmade Soy Candle by Saan Saan
Vetiver, Cedar, Old Rose
8.4 oz. (250ml)
Payment Methods Accepted: Credit or Debit Card / Bank Deposit or Transfer / GCash